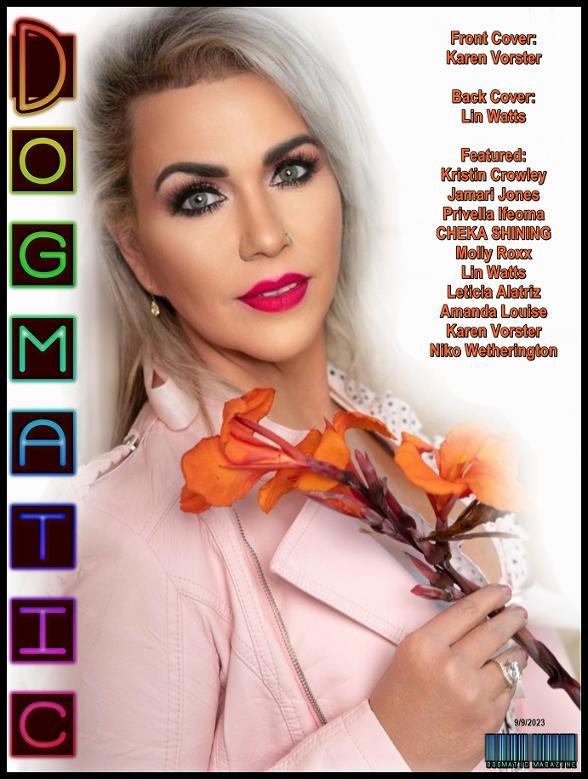 -Send us 6+ high quality photos that you own 100% outright
-All photographer credits
-The name you go by
-Date of birth with year
-Contact email
-All links to you
-Your location
-Height
-Shoe size
-Eye color
-Hair color
Please send all of the above to email:
dogmaticmagazine@gmail.com
This Is A Volunteer Project.
The Pay Is Free Publicity, Experience,
And An Addition To Your Modeling Resume/Portfolio.
No One, Including Our Staff Receives A Free Copy
Of Any Of Our Publications.
Digital Tear Sheets Are Available Upon Written Request After

The Magazine's Release Date.
The Dogmatic zine was originally created in 2012 by Molly Roxx (www.MollyRoxx.com).
It ran successfully for one year and was closed due to personal reasons. Now in 2021 the Dogmatic zine is expanding into a full-blown magazine!
Interesting-news, fashion, the everyday person and more! Very opinionated, very loud, very expressive, and very unique!
Dogmatic
Adjective


C
haracterized By Or Given To The Expression Of Opinions Very Strongly Or Positively As If They Were Facts..

.
...Arbitrary,

Arrogant,

Assertive,

Categorical,

Emphatic,

Fanatical,

Intolerant,
Obstinate,
Stubborn,
Unequivocal,
Bigoted,
Bullheaded,

Cocksure,
Confident,
Definite,
Despotic,
Determined,
Dictative,
Doctrinaire,
Domineering,
Downright,
Egotistical,
Fascistic,
Formal,
High And Mighty,
Imperious,
Magisterial,
Narrow-Minded,
Obdurate,
One-Sided,
Overbearing,
Peremptory,
Pigheaded,

Prejudiced,
Stiff-Necked,
Tenacious,
Tyrannical,
Wrong-Headed...
Click on a cover below to learn more about that specific issue.